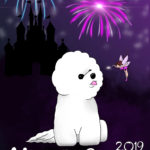 Hello Everyone!  Well I hope the excitement is mounting, we are just around the corner from the BFCA 2019 National Specialty!
The Board has worked very hard to make this year a fun and exciting National!
As you know we are trying very hard to honor the memberships request of Seminars that can help prepare someone for exhibiting their dogs with the hope of encouraging new involvement with our Breed!  On Tuesday, April 30th, we are offering a Seminar conducted by Shannon Moore and Lindsey Dicken on product that you can use for your Bichon and basic preparation of the dog for Scissoring.  If you have not signed up for this, never fear we can take your payment at the door on the day of the Seminar!  Then to continue the theme, Both Ladies are conducting a hands-on Seminar of the Bichon Wednesday morning!  They will be covering proper technique and a basic profile.  Again, if you wish to just observe, listen and learn you will be welcomed to sign up at the National!
To continue our endeavor of education for the ring, we will once again have our Handling Class Tuesday after the conclusion of the Seminar!  We have some great instructors for this class.  It was well received last year, and we want a repeat of that this year!
On Wednesday we will of course hold our Annual Meeting for Members.  The Annual Awards Banquet will be Wednesday evening along with our raffle and auction!  We have had some great items donated this year, so come and see what you want to take home!
You Tube Broadcast of the BFCA National
We are trying something new this year!
Since we realize many folks are not always able to attend, we are going to broadcast the Thursday and Friday classes live on You Tube!
The link for each day's live streaming will be posted on BFCA's Facebook page.
Since this is our first attempt at streaming live on You Tube, please do not expect a flawless, professional production.  However, we hope this will allow us to bring you the dogs and the action for you to enjoy.
Leanne Wise has graciously offered to announce the classes that are in the ring.  We also will attempt to post on the BFCA Facebook page a picture of the applicable catalog pages so that you can follow along.
It is your Board's wish and intention for this to be a way in the future that everyone can enjoy the National.
Wish us luck!
We are looking forward to seeing friends both old and new!  Everyone have safe travels!  See you in Orlando where the Magic will happen!
Debbie Hollan – Show Chair