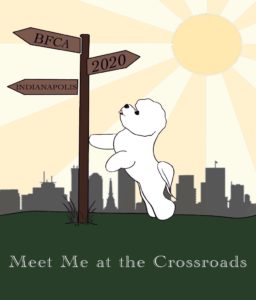 Now that we're entering the busy holiday season, please remember to SAVE THE DATE for our 2020 National Specialty!
We will have our grooming seminars on Tuesday afternoon and Wednesday morning, so please plan your hotel arrival accordingly.   Tuesday afternoon will be split into two 2 hour sessions – 1st 2 hours is Basic Scissoring and the 2nd 2 hours will be Grooming techniques (ie bath and correct prepping and drying techniques) as well as grooming products new to the market in the past year.  Wednesday morning session will be Scissoring a Bichon Head.
Please be sure to book your hotel room early in order to obtain our group rate.
Our 2020 National Specialty will be held at the Wyndham Indianapolis West, 2544 Executive Drive, Indianapolis, IN.  Activities will begin on Tuesday afternoon, May 19 with show days on Thursday & Friday, May 21 & 22, 2020.  Our hotel room rate is $129.00+tax per night with complimentary high-speed internet in the guest rooms.  This group rate is available 3 days prior to the event and 1 day after the event.  The deadline date for reserving hotel rooms at our Group rate is April 27, 2020.  The hotel has capped the number of dogs allowed per room to 4 dogs.  All crates in the guest rooms must have plastic under them.  All dogs must be crated in guest rooms when no human is present.  The hotel will charge a $50.00 Non-refundable pet fee per guest room.  Parking is complimentary for all vehicles except RVs.  The hotel offers a complimentary airport shuttle service.
You can now make your hotel reservations by either calling 877-361-4511 or 317-248-2481 – be sure to identify yourself as part of BFCA in order to obtain our group rate.
You can also make your hotel reservation on-line through our dedicated weblink –  Bichon Frise 2020
Please reach out to Myra Wotton (myblissbichon@comcast.net) if you experience ANY issue with your  hotel reservation.
The judges for the 2020 National Specialty are as follows:
Conformation – John Hutchison
Sweeps – Kayley Kovar
Special Attraction BBE – Joanne Rubin
4-6 Month Puppy – Timothy Catterson
Obedience – Betty Ribble
Junior Showmanship – Ted Lee
BEST WISHES FOR A HAPPY AND HEALTHY
HOLIDAY SEASON!!!!